Responsible Boater Essentials
Thanks for choosing Boats and Beyond Rentals. We've provided the following information for your convenience.
Boats and Beyond Rentals provides all mandatory safety equipment for all Jet Ski and boat/pontoon rentals at no additional charge. Some Jet Ski operators also choose to utilize wetsuits, gloves, watershoes and appropriate eyewear for additional comfort and safety. These items are encouraged but not mandatory. If you opt to utilize this equipment, it must be provided by you.
Renter Orientation Video
Any client renting a JetSki (personal watercraft) is required to view the "PWC Renter Orientation Video". Please take a few minutes to review it now to save time at your check-in.
Help Stop Aquatic Hitchhikers (4MB)
It's every boater's responsibility to protect our lakes and stop aquatic hitchhikers!
We all need to do our part to stop Aquatic Invasive Species. Boats and Beyond has attended Invasive Species Training Prevention courses, and encourage you to be a responsible boater. Feel free to check out the MN DNR links for more information on how you can help!
Minnesota Boating Guide
The MN DNR's guide with information about Minnesota's boating laws and regulations.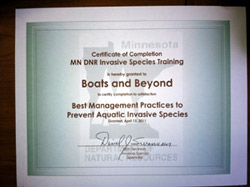 PWC Renter Orientation Checklist
Are you prepared to safely operate a personal watercraft? Review the Personal Watercraft Industry Association's checklist to find out.
Minnesota Personal Watercraft Laws
Familiarize yourself with Minnesota PWC Laws and take the precautions to keep yourself and your passengers safe.
Minnesota Fishing Regulations
Includes General Regulations, Fishing License information, Seasons, Limits, and other important fishing information. .
Map of Public Water Accesses in Crow Wing County
Find public water accesses on lakes in the Brainerd Lakes Area with this map and directory of public water accesses in Crow Wing County.
For more information on how to have FUN and be SAFE on the water, visit the following links: